Over the past 3 weeks I have been watching the Tour de France without fail every day. I've been following the progress of Bradley Wiggins and team Sky from the beginning. Its been absolutely amazing and I have loved watching every minute. Today was the last stage in Paris and the most exciting finish with Mark Cavendish sprinting to the win and Wiggins taking the GC. Wow! Amazing achievement from Wiggins and team Sky (all of whom I have also fallen in love with).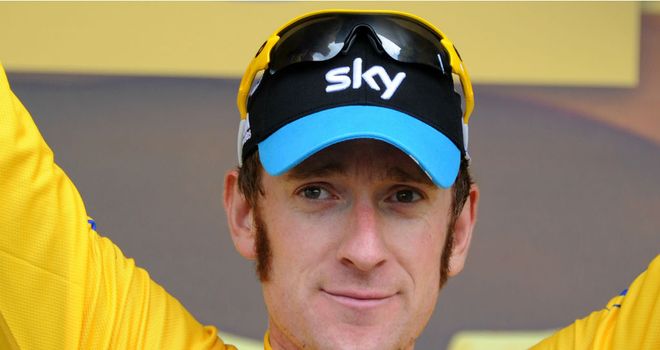 I was going to make this post right at the start of the tour in order to mock his awful sideburns, but I decided to wait until later and in the end I thought it would be best to talk about his sideburns once he won. Over the last 3 weeks Wiggins sideburns have been making many headlines. He has been given many different nicknames. I've heard him being called 'the banana with sideburns', Mr sideburns and also Coronal Sideburns. Sideburns has become his thing.These
Wiggins masks
have also been spotted on the tour. How amazing..! While sideburns isn't really a good look, I am now completely in love with them.
I never thought I would be saying this at the start of the tour. but I would
love
sideburns to become a trend now. Not because I think they are a good look (they're not) but because it would mean that people have been inspired by Wiggins and shows how great his impact has been.
Aside from Team Sky, I have enjoyed watching the slightly random but entertaining Peter Sagan celebrations, watching the competition for King of the mountain because polka dots are awesome (especially Voeckler's polka dot bike), Tejay Van Garderen riding in the white jersey (surprise surprise I love him as well) and the beautiful French countryside!!!
I noted during the tour that cyclists tend to have pretty boring hair. There is a classic cyclist cut of pretty much short all over so I don't have many specific haircuts to comment on.
Bernie Eisel
had the best hair that I saw. Its short like everyone else but he has enough length to style it a bit at the front.
I don't know what I'm going to do with my time now the Tour is over. Oh well, the Olympics is coming up soon and I will be glued to the TV watching. Expect many articles by me about the haircuts and styles I observe. :)